Testimonials
Testimonials
Laundry and Dry Cleaning Services – UNICEF
We recently did some charity work with UNICEF free of charge, we received this thank you in appreciation of our generous contribution. LDS is always giving back to our community & looking for more ways to contribute to all things big and small.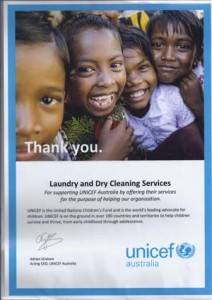 John & team
I just want to say thank you for the laundry service you have provided to Tobruk Clinic at Holsworthy Barracks, over the past few years.
You have been very prompt, reliable and responsive to our requests.
We have never had to worry about the logistics surrounding delivery or collection of our laundry.  It was always there.
The process was always seamless and on time.
You were always contactable if the need arose.
I hope your business continues to prosper and grow.
Kind regards from the team at Tobruk Clinic.
Our Medical Practice has been using Laundry & Drycleaning Services Pty Ltd for approximately 4 years. During that time they have proven to be completely reliable with both the pickup and the delivery of our laundered sheets for the surgery.
We have found Laundry & Drycleaning Services to be punctual and honest with any dealings we have had with them, and any problems over the years have been dealt with immediately.
We therefore would highly recommend theme to future, potential customers.
Please note that we have been using the laundry services of Laundry & Drycleaning Services Pty Ltd for about 24 years. During this time we have always found them reliable, friendly, obliging and professional.
Laundry & Drycleaning Services have been providing the laundry and dry cleaning service for Holsworthy Health Centre, formerly 1st Health Support Battalion, at Holsworthy Barracks for the past twelve years.
In that time they have provided a high standard of service ranging from their great customer service to the pick and up and return of all laundry items and any enquires relating to any problems.
All dry cleaning and laundering is carried out to the Australian standard.
It is with this in mind I would not hesitate in recommending Laundry & Drycleaning Services Pty. Ltd. to any future clients or associates.
I would like to advise that we have used Laundry & Drycleaning Services Pty Ltd Linen service since opening our skin cancer clinic in 2008.
We are very pleased with their service and are confident that their linen service is up to the standard for a medical clinic. We would not hesitate to recommend them.
If you have any queries regarding the above please do not hesitate to contact me.
Hi John,
Thanks for the clean laundry and amazing service!
Kind Regards,
Marina Martin – Events and workshop coordinator
John & Ann-Louise, have been brilliant. We have had our Graduation gowns cleaned after each event, pick up is easy and everything comes back in top condition ready to go for the next one.
Cheers,
Peter.
We have been very happy with your service
Many thanks for your professional service and it is a pleasure working with you.
Business and Process Analyst
thank you,
Megan Dayhew.
Services provided by the team at LDS have consistently met the demands of the irregular schedule and requirements of the venue and the need for the venue to have fresh clean uniforms for the staff at all times.
LDS has met the unusual demands and turnaround times from event day to day and within a 24 hour period, with uniforms being sent and returning back ready to wear by the staff.
The venue continues to use LDS due to the professional quality of service.
Regards, 
Margaret.
Dilip – One On One Home Management & Services 
We have used the services of the team at Laundry and Dry Cleaning Services for a number of years. They are always reliable and consistently meet the demands of our business. They are always willing to constantly meet the demands of our Home Management Services for our prestigious clients that require an exceptionally high level, quality product. 
They are always very professional and continually meet the demands and turn around times required.
We continue to use Laundry and Dry Cleaning Services due to our continued satisfaction with their product and the professional quality of service.
We would highly recommend them to future potential customers.
Dilip
Thank you so much for the great service on the Security vests. They look so clean and they smell great!
Regards
Dora
 Dora Rosa
Manager, Venue Operations
Sydney Showground
Sydney Olympic Park
New Breed Experiential
Hi John,
Thanks for taking such great care of our flags, they looked great at out event last weekend.
Cheers,
Bree.
BREE CUNNEEN 
EVENT PRODUCER
NEW BREED PTY LTD
Marnie – NIDA
Thank you for arranging to clean the Graduation Gowns and Stoles that we used at our Graduation this year.Thank you so much for organising all of this for us! We are so happy with the whole experience and will definitely be in touch next year to use you again.
Thanks again!
Marnie
Manager Vocational Studies
NIDA