Dry Cleaning
Commercial Dry cleaning offers many benefits for a variety of garments from delicates, suits and dresses to badly soiled clothing and heavy duty uniforms.
The dry cleaning process is able to remove stains and clean the most difficult of soiled items such as bitumen from road workers' uniforms, engine oil from mechanics' overalls through to grease from chefs'uniforms.
Dry cleaning offers the best results for the removal of grease, oil, tar and bitumen.
Stains such as these resist washing, so the use of the drycleaning process is essential in the preservation and cleaning of uniforms & clothing. This also eliminates the use of excessive heat causing shrinkage through unnecessary laundering.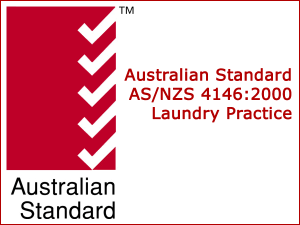 Our extensive knowledge of the laundering process and our use of high quality  laundry detergents and products enables us to deliver a superior product to our clients.
Our strict adherence to the Australian guidelines  and implementation of infection control practices gives our clients assurance of hygiene and quality.