Office End of Trip Facilities
At Laundry and Dry Cleaning Services we offer an extensive line of corporate laundry, towel and linen services for end of trip facilities at very competitive rates
Commercial Laundry Sydney
We deliver and pick up at a time convenient to you in the greater Sydney area.
Tunnellers Uniform Cleaning
We have many years of experience including all types of Uniforms and protective clothing for Tunnellers.
LDS Facts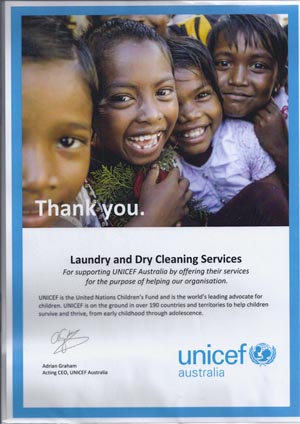 We recently did some charity work with UNICEF free of charge, we received this thank you in appreciation of our generous contribution. LDS is always giving back to our community & looking for more ways to contribute to all things big and small.
Growth of a commercial laundry, how it started.
Laundry and Dry Cleaning Services or L.D.S started in a small suburban Sydney shopping centre and has grown, developed and today evolved into a large commercial laundry and dry cleaning business based in Sydney. Our services include, Medical Linen & Towels, Uniform cleaning, Professional Dry Cleaning, Costume Cleaning, Large sheet Linen items & more. LDS is your one-stop laundry & dry cleaning specialist for any Sydney commercial laundry requirements.
At Laundry & Dry Cleaning Services we pride ourselves on building strong, long-term relationships with our customers, which we attribute to our highly qualified staff, excellent service and the superior standard of our product.
Our goal is to continually provide a personal service to our clients and our attention to detail is paramount in maintaining customer satisfaction.
Laundry & Dry Cleaning Services caters for a large and diverse customer base throughout Sydney and all suburbs. We offer a superior, value for money product and guarantee a reliable service at very competitive prices.
Call us today to arrange a free Sydney Laundry appraisal & take advantage of our two-year price fix guarantee.